The province of Ontario is set to revolutionize the job market with a new law that will require employers to indicate salary ranges in their job offers. This measure aims to bring greater clarity to job seekers while addressing wage inequalities, particularly those affecting women, racialized, and Indigenous people.
https://news.canadamotorjobs.com/wp-content/uploads/2023/11/DALL·E-2023-11-09-15.37.43-A-detailed-illustration-representing-the-new-era-of-job-transparency-in-Ontario-without-any-text.-The-image-should-depict-a-futuristic-job-fair-in-a-s.png
1024
1024
Canada Motor Jobs
https://news.canadamotorjobs.com/wp-content/uploads/2021/06/logo-canada-motor-jobs-white-1.png
Canada Motor Jobs
2023-11-14 09:05:32
2023-11-14 09:15:12
Ontario's New Era: Mandatory Salary Transparency in Job Ads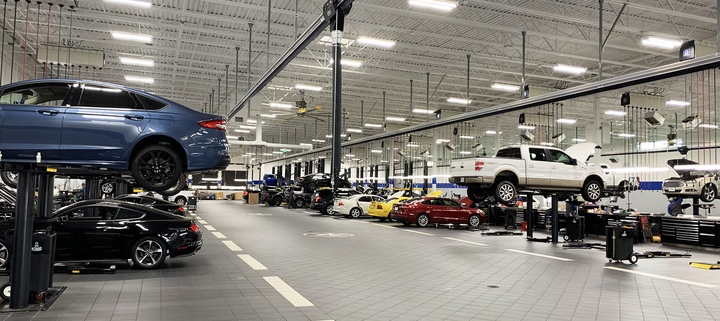 In the competitive field of automotive repair, optimizing productivity and efficiency is crucial. One often overlooked aspect is the significant impact that an unoccupied workstation can have on a workshop's profits. Specifically, a service bay without a mechanic can result in substantial revenue losses, estimated between $1500 to $2000 per day. Aside from the financial losses, are there other factors to consider? Let's examine a few.
https://news.canadamotorjobs.com/wp-content/uploads/2023/07/service_bay_720.jpg
371
720
Louis-Martin Jannard
https://news.canadamotorjobs.com/wp-content/uploads/2021/06/logo-canada-motor-jobs-white-1.png
Louis-Martin Jannard
2023-07-19 10:48:24
2023-07-20 15:44:14
The financial impact of an empty service bay in an automotive workshop
William Byron won Sunday's NASCAR Cup race at Homestead-Miami Speedway, Myatt Snider finished first in the Xfinity Series race at the same place on Saturday and this week's Sermon, which is pretty heavy on politics (hint: F1 and Saudi Arabia), can be found way down at the bottom of this report. First, the Cup race. […]
https://news.canadamotorjobs.com/wp-content/uploads/2021/06/logo-canada-motor-jobs-white-1.png
0
0
CANADA Motor Jobs
https://news.canadamotorjobs.com/wp-content/uploads/2021/06/logo-canada-motor-jobs-white-1.png
CANADA Motor Jobs
2021-03-01 10:54:42
2021-03-01 11:00:19
Racing Roundup: NASCAR transition almost complete
Thoughts while driving around on a wintry afternoon: I used to say to my wife – who knows how to drive but let her licence lapse years ago because, when you live with me, I do the driving – that driving was the perfect illustration of cooperation. You have tens of thousands of cars and trucks on […]
https://news.canadamotorjobs.com/wp-content/uploads/2021/02/pine-cones-1.jpg
1280
1274
CANADA Motor Jobs
https://news.canadamotorjobs.com/wp-content/uploads/2021/06/logo-canada-motor-jobs-white-1.png
CANADA Motor Jobs
2021-02-27 07:30:35
2021-02-28 09:20:06
Being Smarter About How We Drive